Been to Restoration Hardware, lately?
Have you seen their zinc tables? They are really cool, but pricey.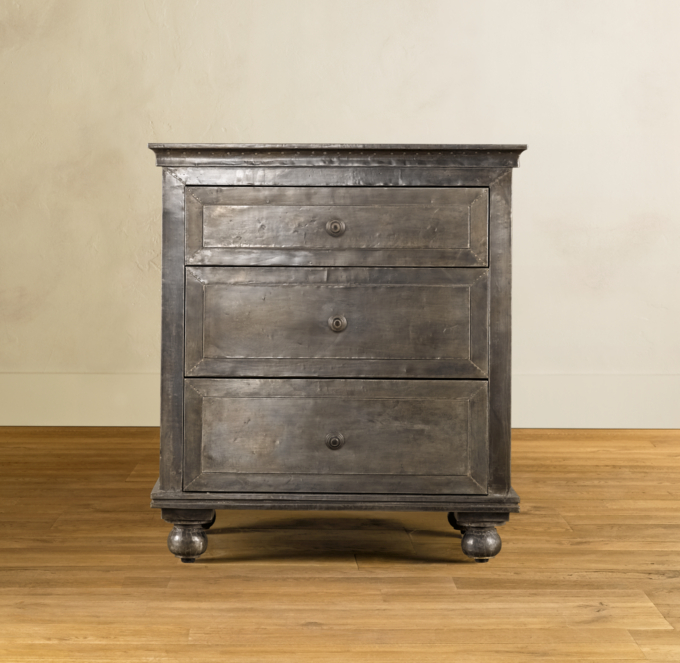 *restoration hardware
I wanted to make my own, since buying one just isn't an option as a SAHM and a firefighter's wife. I have a hard time going into retail shops without thinking, "I can make that and for a lot less." While I can't weld a zinc table myself, I thought that I could paint something to look like zinc. So, I found some inspiration on Pinterest:
*maisonhome
*greigedesign
*laurieannas
Looked achievable and I already had most of the supplies on hand. I have a table behind my sofa I chose to refinish in "zinc."
I gathered my supplies:
1.) 150 grit sand paper
2.) quart of black 2n1 primer + paint in satin (I used Glidden brand at Walmart)
3.) 2oz Folk Art Metallic Pearl White acrylic paint (Walmart) x2
4.) 2" paint brush
5.) paper plate (to put the acrylic paint while you paint)
6.) finishing nails (short nails with small heads)
7.) hammer
So, this is how my table looked in the beginning:
I purchased this table at Target a couple years ago.
It was a dark wood with a brushed nickel knob. So-so looking, but I liked the shape and it worked well behind my sofa. always meant to paint it, but never found the right color....till now.
Step by Step:
1.) Wipe down with damp cloth.
2.) Let dry.
3.) Lightly sand.
4.) Wipe off.
5.) Apply 2 coats of the black paint as a base color.
Here is what it looks like after those steps.
(Excuse the hideous recliner in the background! My husband refuses to part with it till I find a replacement. Where does one find a shabby chic recliner?!)
6.) Load a clean paint brush with metallic pearl white paint and "pounce" (bounce brush up & down off surface) Work in small sections.
7.) Rub the brush in same area in circular motion to blend the paint. You want to achieve a metal surface look. No brush strokes.
Work your way all over the table until you cover the what you want, whether it's just the top, the bottom, or like me, the whole thing. Add as many coats of the pearl until you achieve the depth and look you desire. Some black should show through.
8. ) Now, add the nails. I added them around the top edge and on top of the legs.
9.) lightly brush the nail heads with the pearl paint to blend them in with the rest of the "zinc" table
You're done. That's it. 9 steps. Cool, huh?!
and the reveal........
you should end up with something that looks like this:
This is a closer view of the finish and the nailhead detail.
I am so happy I painted this sofa table! The "zinc" looks nice up against my leather sofa.
I hope this inspires and motivates you to "zinctify" a piece of furniture. Or even a mirror frame. Or how about a tray? If you do, I would love for you to share your piece here with me.
Happy making!
Pam
P.S. For a whole mess of tutorials, you should visit The Lettered Cottage blog. That is where post mine on Tuesday, once a month. Click the button below:
p
P.P.S. Also, check out
Miss Mustard Seed's Furniture Feature Friday
for my (#207) tutorial and many others!
P.P.P.S. If you're looking for some of the best projects from 2011, check out Not Just A Housewife's blog. I am entering this tutorial in their contest. I hope I win!